Hi fellow restorers,
(Photos added see below)
I've joined this forum mainly to get help with restoring a number of UK manufactured engines.
I do have many pieces of equipment that were driven by stationary engines but none that were made in the UK. Mostly, Australian made and a few US made items.
Come to think of it, I do have a couple of things that originate from the UK. Last year I bought two pallet loads of generators (you call them dynamos?), about 40 of them. I was after the 6 complete switch boards that came with them. There were a couple of UK made generators amongst but haven't got around to cataloging the load yet.
A few weeks back, I went on a little road trip to pick up 4 engines that I'd bought from sellers down the east coast of Australia (a 2700 km round trip). The fellow that I picked up a Style 1 Wolseley from, was selling off his collection and offered to show me other items that were available for sale. My only problem in considering more engines was the available space on my little truck. I really only had room for one more engine. So I had to pick the one that was just a little more interesting than all the other nice stuff he had.
I noticed something on the floor in the corner of his shed that I didn't recognise, which is always a good sign. It turned out to be, what he described as, a starting setup for a very big Crossley oil engine that he had sold previously.The Crossley had a 6ft diameter flywheel and came out of a sawmill. The setup that I noticed in his shed was used to start it using compressed air. The setup consisted of Villiers hopper cooled engine running a single cylinder compressor on a cast iron base. I never new that Villiers made a water cooled engine until I saw this one. We pulled the setup out of the corner to get a better look at it. There was printing cast into both sides of the base but there was so much old oil and dirt caked all over the base and the bottom of the compressor that it was difficult to make out the words. After some rough cleaning with a wire brush, we could see that it read "Hamworthy Engineering Co. Ltd Poole Dorset" which meant absolutely nothing to me at the time. I later found out the these compressors were typically 300psi.
When I got home a few days later, I got on the net to try and find out more about this Hamworthy company. I now know that this is an original setup that this company sold for exactly the purpose it was being used. Under all that old oil, there is an oval brass plaque on the compressor the I hope says it's a Hamworthy compressor. The compressor looked rather strange to me, with its conical head, flat sides and cooling vanes only at the bottom. As it was still sitting on the truck a week later I took the load over to show a mate of mine. He worked out immediately what was different about this compressor, the odd looking top is a hopper as the compressor is water cooled.
Has anyone here on the forum seen or know anything about Hamworthy Hopper cooled compressors? Is there somewhere on the net that shows all the models that they used to make?    
Here are two photos of the starting setup.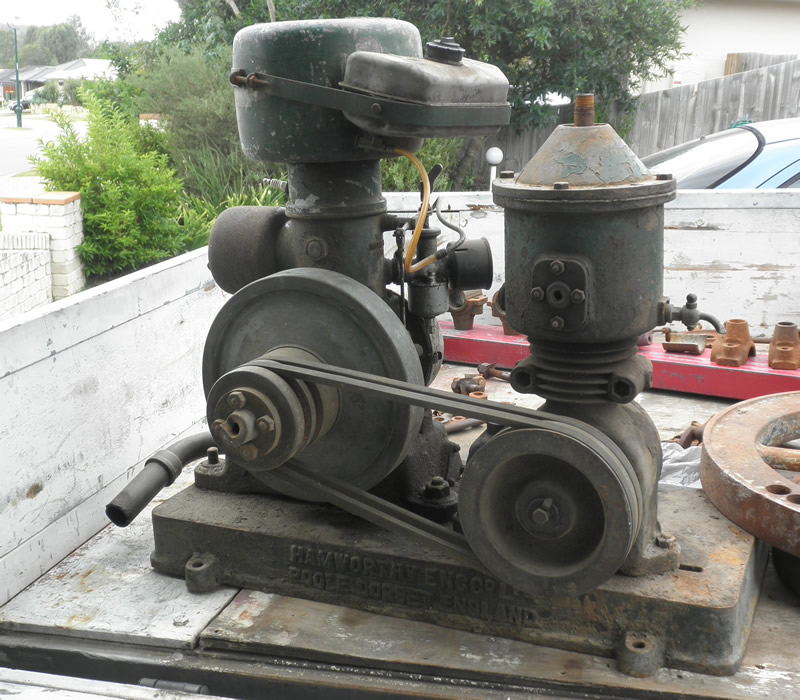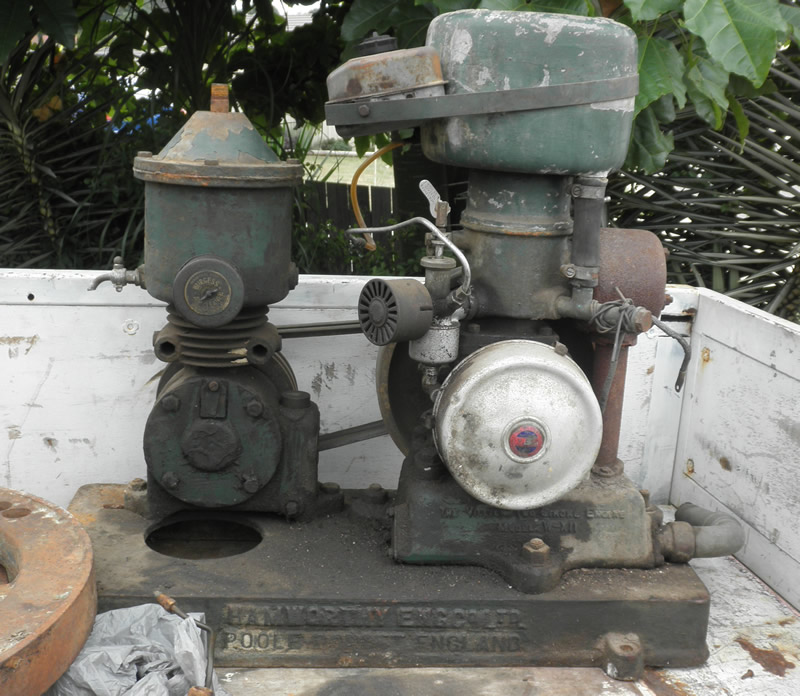 Cheers
Mark
Queensland
Australia
Last edited by harrone on Fri Apr 08 2016, 00:45; edited 2 times in total (Reason for editing : More relevant topic title)

harrone

Born to be wild





Posts

: 41


Join date

: 2016-04-02


Age

: 58


Location

: Queensland Australia



Interesting.

I can't help with info on the hamworthy but I expect my brother can, unfortunately he isn't a member on this forum however I am admin on an engine group on facebook and he is on that, if you use facebook then join us and post the question on that and I'll see what I can do...

www.facebook.com/groups/52247915993/

By the way, I'm 26 miles from Ipswich, but that's Ipswich England.
Hi Villiers,

Unfortunately for me, I don't do social media.
Forums, usergroups, face to face, text messages or phone calls all work for me.
My mobile phone plan gives me unlimited free calls to 10 countries including the UK and US.

Cheers

Mark

harrone

Born to be wild





Posts

: 41


Join date

: 2016-04-02


Age

: 58


Location

: Queensland Australia





Similar topics
---
Permissions in this forum:
You
cannot
reply to topics in this forum