Good Day,
I have a 1927 Lister D with no mag I see lots of mags for the chain drive engines so my question is can a chain drive mag be used on a shaft drive engine ? I understand they turn opposite to each other but I thought I read where a mag can be altered to turn reversed rotation . Anyone have any experience trying this ? Thanks Mike

Mike Unwin

Born to be wild





Posts

: 12


Join date

: 2016-06-04



Hi Mike in answer to your question, yes you can use a chain driven mag on a shaft driven engine, depending on what mag you intend to use, they also used wico mags for a while but only on spec 13s I believe, as to changing rotation on SR1 loaf that most Ds use its a matter of turning the cam to open points for reverse rotation.

rich07961

A credit to the forum





Posts

: 263


Join date

: 2015-03-30


Age

: 67


Location

: Calne Wilts



Thank you so much for your advice , I really don,t care what mag I use as long as I get the engine running again. I had it running fine with a home made trip and a buzz coil but running a current thru two pieces of metal striking each other made for a short life .But it proved the engine out, so if you can suggest a suitable mag even if I have to use a small battery and a external coil that would be great. Thanks again Mike

Mike Unwin

Born to be wild





Posts

: 12


Join date

: 2016-06-04



Hi Mike
This is an original ML mag that I have on my spec 11 They are hard to get hold of and fetch a lot of money.
Do you have the couplings that fit on the mag and gearing. ?
This is an alternative which they call a loaf, they can get expensive to get if working, these you just change the cam.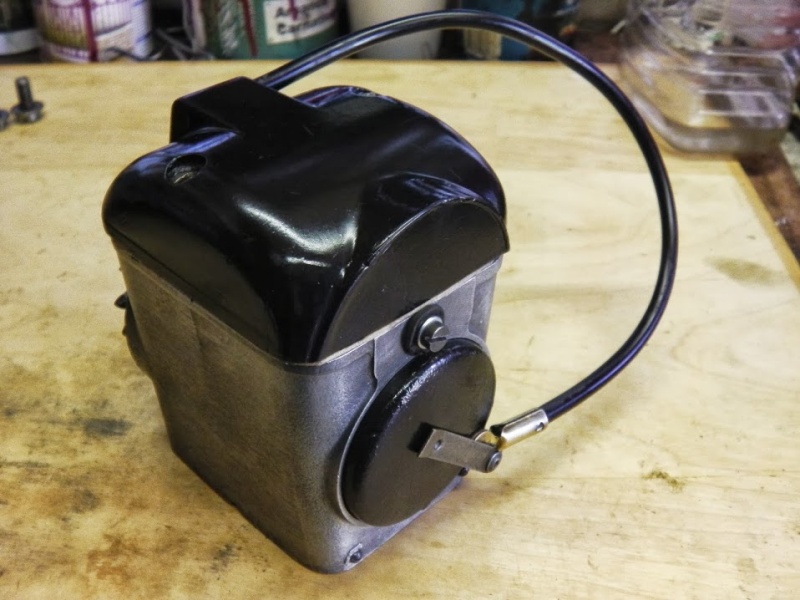 This is a wico mag that I use on my spec 13 shafty, but need to get right rotation on these as the cam is set or just remove key on shaft of the cam.

rich07961

A credit to the forum





Posts

: 263


Join date

: 2015-03-30


Age

: 67


Location

: Calne Wilts



Okay so both engines have nothing no mag or coupler, I have asked Rudy Adrian and he is looking for a mag you never know when something will turn up. I have a Wico base mount but it is clockwise rotation, I have ordered from Mini Mag a sensor and module kit even if one mag turns up there is still the second engine resting in the basement .Pity the engine did start and run good with the home made timer placed a hand held tach on it and it was runinng about 900 rpm .I really appreciate the pictures and help , at least I have some other engines I can run in the mean time .Cheers Mike

Mike Unwin

Born to be wild





Posts

: 12


Join date

: 2016-06-04



The kit from Mini Mag showed up was was easy to install and wire, everything was laid out nice and colour coded for people like me ! I simply fitted a steel collar with a set screw on the engine stub shaft and glued a provided magnet on the rim. The set screw provides a way to fine tune the timing, when powered on the LED in the module lights up briefy then lights up again just before it fires a standard car coil . Outside of the kit all you need is a car coil ,resistor and a high tension lead to the spark plug.
Engine starts easy runs great turning about 850 rpm ,uses a small sealed 12 volt battery with a very light draw so it should last the entire weekend . I have ran it over 3 hours now and this weekend if I don,t get rain out is the first show.If I can figure out how to post a picture I will.
Cheers Mike

Mike Unwin

Born to be wild





Posts

: 12


Join date

: 2016-06-04





Similar topics
---
Permissions in this forum:
You
cannot
reply to topics in this forum