Hello ladies and gents,
Here is a good challenge for you - recently there was a very interesting chain drive triple beam type water pump for sale on fleabay....
Sadly my pockets aren't deep enough to of bid for it (or my arms are too short....) but I would really appreciate any pointers to who made it.
I hope its easy for someone.... its of interest because its unusual and I'd like to find another one or at least know what it was....
Any pointers will be much appreciated - and researched to the ends of the earth!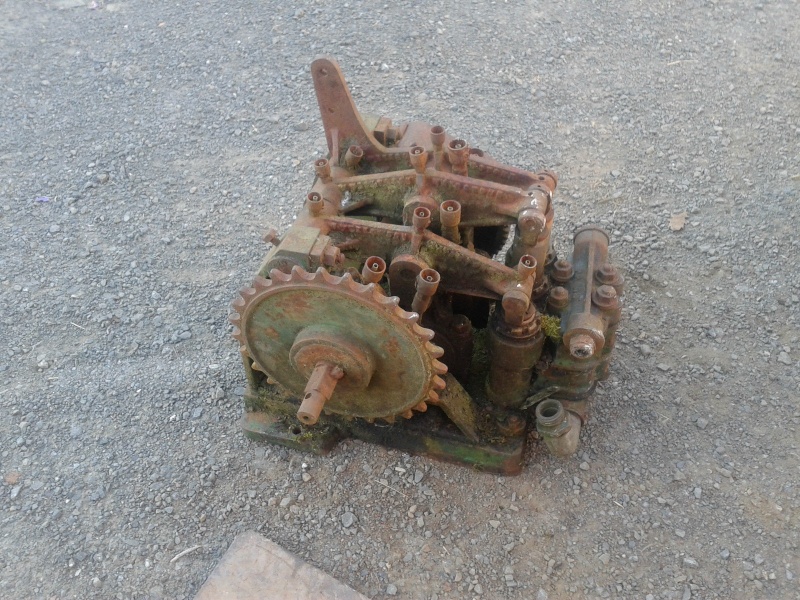 What thinks you lot??
Best
Hamish (very frustrated from Hampshire....)
P.S It went from £70 to £170 in the dying seconds - lucky blighter! - my bid of £20 doesn't seem to of impressed the seller...

StewartH

A credit to the forum





Posts

: 414


Join date

: 2013-07-04


Location

: Hampshire



Made good money as well for what it is, interesting thing, maybe a forum member got it and we'll see more of it...

Did you ask the seller what the letters on the rockers were ? It might be the makers name ?? Still time to do this ??
_________________
blue cat  


blue cat

A credit to the forum





Posts

: 268


Join date

: 2013-10-10



At £20 you will be very lucky to get any water pump, even the common Lister domestic and other equivalent pumps are going for £40+ depending on condition.
At £40 you will be very very lucky if you get one that does not require more money spending getting it sorted.
That pump went for a good price because it has all the moving arms which appeals to the public at rallies and I have never seen another as far as I can remember in over 40 years rallying.

Bamfordlad

Expert





Posts

: 59


Join date

: 2010-02-05



I know I know - I need to shell out a few more pounds if I want anything worth working with

The seller wasn't the most talkative - however I do have the pics and will try to work out that lettering - well spotted Squire!
I could not agree with you more - for my part a lot of the attraction of this hobby are the moving parts..
Although if you've been in the scene for 40 years and not seen another my hopes of finding another may be slim to zero...

Best
Hamish

StewartH

A credit to the forum





Posts

: 414


Join date

: 2013-07-04


Location

: Hampshire



That pump is a W. Weeks & Son of Maidstone. Whilst their pumps are fairly common, that particular one would appear not to be.
Info can be found here;_
http://www.stationary-engine.net/forum/showthread.php?t=37997

Bamfordlad

Expert





Posts

: 59


Join date

: 2010-02-05



Banfordlad you have just made me a a very happy man - I just couldnt work out who made it - i had blown up a photo and was trying to write the makers name but it came out more as Blurghhhhhhhhhhhhhhh than W.Weeks and Son of Maidstone....

Thank you so much for posting the link! - I can now sleep.......

Its a nice looking bit of kit - Like a few of the guys on the link you posted mention there will be some lovely movement - from my point of view thats one of my reasons for having this hobby - 1 keeping the heritage going and 2 the mechanical movement of all the engines and add ons..

Many thanks once again - thats a pint I owe you!

Hamish

StewartH

A credit to the forum





Posts

: 414


Join date

: 2013-07-04


Location

: Hampshire





Similar topics
---
Permissions in this forum:
You
cannot
reply to topics in this forum